Well, at the auction I had bought a (cheap, yes) western saddle. I'd been on the hunt for a FQHB, WIDE gullet, well-swayed saddle that was also round-skirted, brown without flowers or acorns on it (WTF western people?) or too much basketweave (plasticweave if you ask me, ick!) on it.
I found something acceptable and won it, along with a nice thick pad. I meant to try it out soon after, so swung by Fleet Farm after work to get a cinch. Then realized "LOL, no billet straps" and had to wait until another trip to FF after work to get some. Finally, ready to play with saddle. Boots=check, bel=check, spurs=nah, hat= helmet? In the meantime we used our English saddle, and I had stuck this one on him to see if it was worth trying (width and rock etc). It was.
Dante gets pissy if we don't have ample snacking/grooming/love time before any work. I'd rather let him graze while grooming, so we do. I also dewormed him, which he does well. The barn he was at had dry lots most of the time, so even though he lives in food, he gets more here too. Summer coat=shiny horse, so there's little to accomplish besides feet picking, quick brush, and handling the mane and tail.
I let him continue to graze while I adjust everything, attaching new parts, adjust stirrups , and cinch up. Well F me- he didn't budge while cinching! Maybe he is a Western boy!
So what do I do? I take a photo!
We then longe a quick WTC-ho-back in each direction, I helmet-up, and we go to our mounting bucket, and up we go.
We walk, we trot, we even do a couple strides of canter. He's an ANGEL. Very responsive to seat still (I was paying extra attention), and I had an epiphany moment where I was like, "hey, he really DOES turn much better if I look where I want him to go with both eyes!"And our reinless stop was perfect. Neck reining- check. Our couple strides of loping are crappy, because I'm still developing a seat in it (I waited until I could trot w/stirrups and feel balanced). He is smooth, it's not his fault. He isn't used to it though, and is a little head-tossy. Had I a decent arena, we'd practice longer lopes and he'd get used to it, and is then much better about it. Being in an arena-like grassy area without fencing and with Nature, we don't. Maybe in winter ;)
Go video! I tried to trim it because I realize watching us is not exciting. :\ Yes, I'm still learning. Any observations (heels down) are appreciated, and hecklers (your riding sux!) are not.
I unsaddle, and note that the sweat marks are purdy.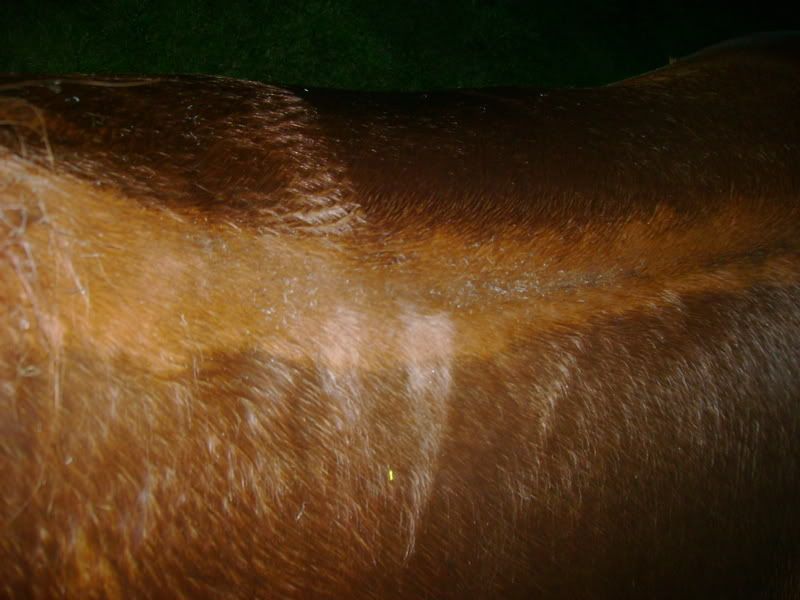 (no that's not a dry spot in the second one just combed a different way)
It was getting late (hence the flash) so I hosed him off, squeegeed, gave a treat, and put him away. He's always had good gate manners (I made that happen right off the bat), and this time instead of galloping back to his friends, he stuck by me and slowly sauntered over to them as I walked away.
That was Thursday.
I figured Sunday would be nicer weather, so I was all excited for another Western day. Sun shining, low 70s, gentle breezes, great! I'm stoked. I show up, and this time he was standing under a tree swatting flies. I get him, and walk him back to my car. Normal, normal. Very mellow
Hint #1 that he did not want to play today.
I let him graze and groom him, and all of a sudden while I'm currying his fanny, he BOLTS! Sinks his butt down, and takes off 20 ft. The horse that never spooks. I was like "okay, that was odd," No bee stings, nothing. Maybe he JUST noticed the chicken? Odd. Really odd. I tell him he's fine and we continue grooming. Finish up, and I saddle him like before (well, I didn't have to build the saddle on him, but nothing slapdash either). He did move a little on cinching, but he hates girths so I figured maybe there isn't a miracle cinch/girth that he'll love. Some days I hate bras, so go fig.
Hint #2
I go to do our quick WTC longe routine. It's more of a NH longeing, but I like it as he hates dressage whips (I think face-yanker used to beat him with one), he can feel more of the rope because it's heavy, and I like the flexibility in gestures with the stick. I click-click for a trot and fine, and then a short kiss and ask for canter and all of a sudden HE IS IN THE AIR. He looked like this:
www.sankeyprorodeo.com/images/Logos&Misc/Houdini_small.jpg
Only his back legs were pointed down more, and his back was arched. Like he was standing on an invisible pedestal.
I was understandably nervous. Where did MY horse go? Who was this? Thought, okay, weird, let's try this again (and simultaneously decided no riding today... unless he became perfect).
We try again, more bucking farting crazy. I take off the saddle thinking maybe he's not okay with it anymore, same thing. Take off my hat (I had a horse that wouldn't let me catch her if I wore a hat), same. He gets worse and worse about got grazing on our work surface. I move us to the gravel drive. Behaves, but certainly not calm. Back to grass, farting rearing bucking stupid.
At this point I'm not counting hints.
I figure that's our new goal for the day, a WTC. Nothing fancy, not even for very long, (half a circle? An attempt). I "reboot" him by instead playing with our new fly mask- I was going to leave it on him today but not if he's not thinking clearly. I give him a treat and tell him he's fine, I'm not mad, lots of hugs. Let's try again. He's usually easy to reboot.
Because of the face-yanker in his past life, Dante is very worried about doing the wrong thing. He will try and try and try, and LOVES praise. If not, he will get more and more worked up until he spazzes in a great big "I CAN'T DO IT!" moment. Occasionally I'll have to get him through one of those moments to rile him up enough to do what I want. (He thought he couldn't trot on a longe when I first got him). After failing, I must have him do something he CAN do to perk him back up. To work with him, one MUST commend him the exact second his intent is there, then he calms down and performs. You say "goood" as his weight shifts back to back up, not when a foot moves, or when his head raises before entering a trot/canter, when hes head moves before turning etc.
I have a friend who had a dog where you wouldn't tell her to go out and piddle, but to go do "good girl"s. He reminds me of that. Sometimes it's better if you praise him so he can relax and get it right.
Hint#- oh I'm not counting, I get the hint that it's not a fun riding day!
The encouraging "gooood"s are not working. The hugs are not working. He keeps giving up and either eating, or coming at me (big no-no, desperate to get out of the work "pet me instead and tell me I'm still good" and also too animated for my liking) He is not lame. He is not ill. He is not hungry- he lives in a pasture full of food, which he wasn't even EATING when I took him out.
In the end, I gave up. He was ALMOST done, we had one direction down and just a quickie in the other one, and then he did a BIG REAR, managed to rope burn my fingers, on yacht rope. I did release the rope because I was paranoid he'd flip over and wanted him to have his head for balance. I was like, "Game Over." I calmed him down some, and walked him back to his gate. Thank God we established good gate manners from the get-go. He was prancey, stampy, irritable. I get him in the pasture, released him, and after begging for a cookie that was not forthcoming (I needed to be ready for him to bolt), he took off towards his friends at a full gallop, and I believe there was a flying start in there.
WTF happened to my horse??? I figured there was no way I was going to "win" either by force or coercion, so I quit. The day did not need to end in some sort of medical bill for me to pursue that option. I had several hours of patience and then decided there were funner things to do with my day, and nothing to gain by fighting. I'm not thinking it's going to be a "now-you've-taught-him-to-avoid-work-by-being-naughty problem, because it was so random and off for him. Considering how he does not favor longing and how much longing he got do to from being naughty, I'd say it didn't work out in his favor. Did I do anything wrong?